This post contains affiliate links. Affiliate disclosure: As an Amazon Associate, we may earn commissions from qualifying purchases from Amazon.com and other Amazon websites.
Dogs are beloved everywhere, and a person's love for dogs gives us plenty of opportunities to make a great gift. Whether or not they own a dog, there are gifts on this list that are bound to please.
And if the person you're buying for is a dog owner, they'll love nothing more than buying a treat for their beloved pet. And it's a gift in itself to see a doggo excited for their present!
This product was recommended by Claudine Sievert from CatPet
I don't know any other product that could better show love and care to your dog. You can use it to protect the lovely pet from aggressive dogs or potentially dangerous environments. And it will definitely enrich your dog's life.
You can also find more dog strollers at PetLovesBest.
---
This product was recommended by Claudine Sievert from CatPet
This Starbucks parody plush toy will perfectly complement every interior and will become a new favorite plaything for your doggie. Especially if you're a dad or mom of a french bulldog!
---
This product was recommended by Jessica Kirk from Vet Explains Pets
As a veterinarian, I often receive pet-related gifts from clients and this is one of my favorites ever received. This FDA-approved silicone dog treat mold is the perfect way to make healthy, homemade treats for your dog right at home!
---
This product was recommended by Leia Kalani from Tropical Topics
If your dog-loving friend also loves wine, there's no better gift to them than this wine glass. With the clever saying "In Dog Wines I've Only Had One", they'll be able to sit back and relax at the end of a long day with a smile on their face. The glass is dishwasher safe and comes in a nice gift box, so it will make the perfect gag gift or genuine present.
---
This product was recommended by Charlotte White from Tigga Towers
The Dog Cave Bed is a great covered bed designed for dogs to feel warm, snug and safe. The removable rod system is designed to help the bed bounce back into shape if the dog tries to climb on top and collapse it. Made from our exclusive non-looped super-soft fabric, preventing small claws getting caught and also stops fur from sticking! Comes in a range of different sizes suitable for all dogs and a choice of two colours!
---
This product was recommended by Rupert Pople from Your Smart Home Guide
The Roomba E5 can be scheduled to clean daily, meaning that minimal effort is required by the user to maintain the device. All they have to do is simply empty the dustbin when indicated it is full. An array of infrared sensors are used to navigate around your home and avoid objects. When an area with a high level of dirt is detected, the E5 will apply extra attention and effort to clean it.
---
This product was recommended by Ashley Gomez from SmartPetLove
The Snuggle Puppy celebrated its 22nd birthday in November, and since being created has helped hundreds of thousands of dogs with anxiety. The Snuggle Puppy is an all-natural solution for pet anxiety, whether that be transitioning to a new home, crate training, separation anxiety, thunderstorms and more. It soothes pets by mimicking maternal intimacy through a "real-feel" pulsing heartbeat and physical warmth. Beyond helping animals, the Snuggle Puppy adds the value of a good night's sleep for many new puppy owners. All of this makes it a perfect gift, especially for new pet owners!
---
This product was recommended by Sammy Bosch from I See Me!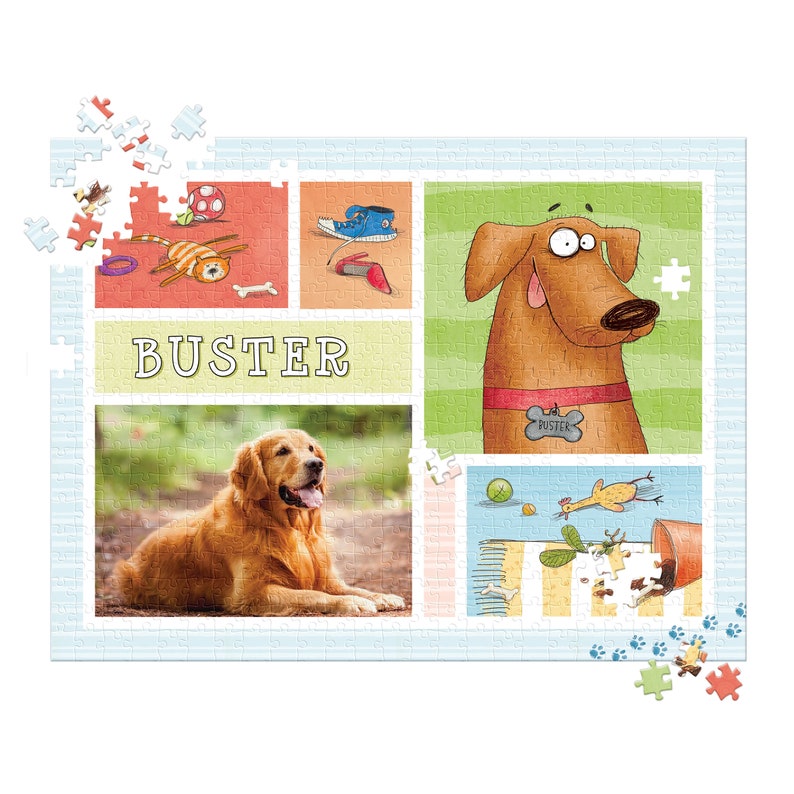 Surprise dog lovers with a paw-some 500-piece puzzle that features up to 6 photos of their pet! Customize the illustrated dog on the puzzle to resemble your own pet, by choosing the breed and color. A sweet, keepsake gift for the dog lover and their furry friend.
---
This product was recommended by Jeremiah LaBrash from Jeremiah LaBrash LinkedIn
They love the different ways to try to get the everlasting treats from the center. The toys are rugged and can take a long chew session without any stretching or damage. And my dogs love the various flavors Starmark offers. It's great for them to releve stress when couped up inside on days we may have gone on a hike!
---
This product was recommended by Li-ran Bukovza from PuppyTip
Specifically designed to keep dogs mentally sharp, this snuffle mat is a perfect way to introduce nose work, which helps build confidence and alleviate boredom. Simply toss some treats or kibble between the fibers and let Fido's nose do the work! As an added bonus, the mat can also be used as a slow feeder for pets who like to gobble down their food.
---
This product was recommended by Kevin Ringstaff from PetCloud
This isn't your normal gift idea, but it can be a profound statement of love and sympathy for a friend of yours going through the loss of a pet. This is a sympathy card for pet loss and a Grief Sympathy Kit designed to help you support your friend in their grief. In this kit, we tell you what to say in a sympathy card, what NOT to say, and we suggest other ways that you can show up for your friend down the road. The card that you send them will have additional activities to help your friend find the comfort and support they need in the long road of grieving that lies ahead. I'm just finishing putting these together and listing them on Amazon, so the listing isn't completely filled out yet (it's crazy complicated to do anything on Amazon). I'm suggesting this to help grow this brand and to be able to offer this service to help more people.
---
This product was recommended by Leslie Standridge from Lavidge
For many rescue dog owners, the history of their beloved pet prior to adoption is shrouded in mystery. They may have a few details-birthplace, exact age, reason for being turned over to a shelter-but the rest is unknown, prompting owners to fill in the blanks themselves. In her novel Buck: Heroic Dog Story, Lawrence-Verploegen pays tribute to her own rescue dog by imaging the two years of his life before she rescued him from the devastating aftermath of Hurricane Katrina. Starting in Louisiana and moving through the rest of Mississippi, the book follows Buck as he becomes separated from his family and overcomes unimaginable obstacles to find his forever home, meeting a multitude of memorable characters along the way. An entertaining and heartwarming read for dog lovers and animal rescue enthusiasts, Buck is a reminder of the bravery and courage of dogs as well as the endless love and joy they have to offer.
---
This product was recommended by Boriana Slabakova from PetPedia
Everyone who has a dog will love these short, quirky poems that describe things that dogs love the most – their ball, bones, bed and treats. With over 100 different poems, this book will definitely entertain you and put a smile on your face, which makes an ideal gift for all dog lovers.
---
This product was recommended by Melanie Musson from CarInsurance
This frame holds not only a picture of your beautiful dog, but also an imprint of their paw. The imprint kit is easy to use and the clay is already mixed, so you don't have to worry about making a mess. All you need to do is get your dog to cooperate for a few seconds and step on the clay. You'll have a keepsake that can be displayed for years.
---