This post contains affiliate links. Affiliate disclosure: As an Amazon Associate, we may earn commissions from qualifying purchases from Amazon.com and other Amazon websites.
This article showcases our top picks for the
Gifts For Your 50 Year Old Brother
. We reached out to industry leaders and experts who have contributed the suggestions within this article (they have been credited for their contributions below). We are keen to hear your feedback on all of our content and our comment section is a moderated space to express your thoughts and feelings related (or not) to this article 
This list is in no particular order.
This product was recommended by Michael Stone from Viola Grace Shop
Your brother is turning 50, he's OLD– Have some fun by wrapping his gift in some spiderweb wrapping paper. welcome to the other side of the hill
---
This product was recommended by Josh Band from A Backpacker's World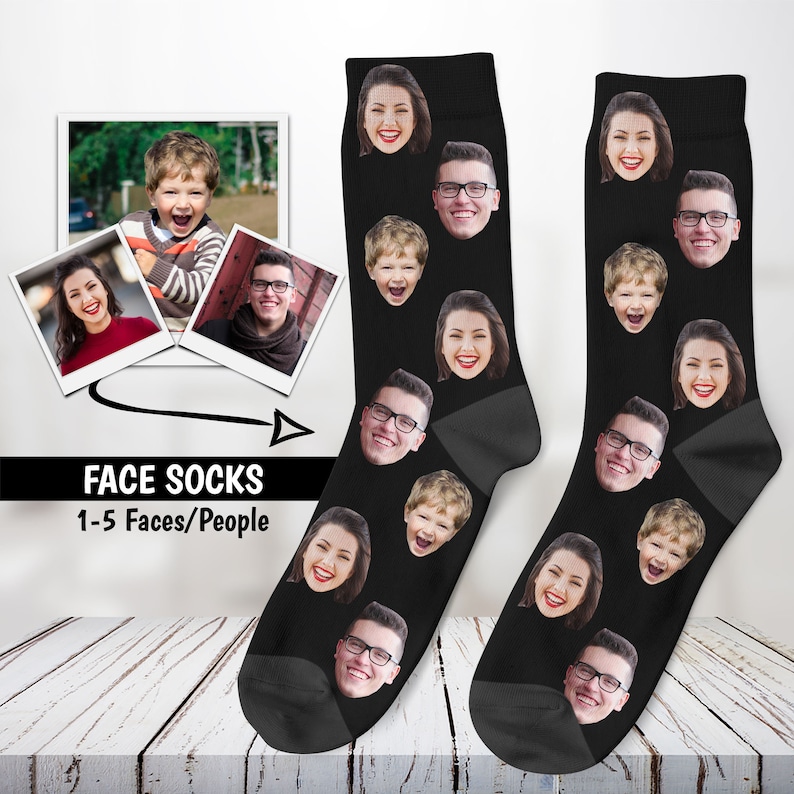 What kind of brother doesn't get socks for his birthday or Christmas, right? Why not step up the usual gift, and get him socks with YOUR FACE on them?! He will either LOVE or HATE the socks, but either way, it will tick the socks off the list of presents!
---
This product was recommended by Amy Weiher from Weiher Creative
For the brother that loves to cook and grill for, well, the entire neighborhood, a customized butcher block is a great gift idea. He'll love being able to prepare and serve food on his very own butcher block. Made from durable acacia wood, this butcher block will last for years and hold up to constant use.
---
This product was recommended by Katie Ziskind from Wisdom Within Counseling
As a gift for your 50 year old brother, I would recommend this wood burning kit. He can use this wood burning kit to be creative and take interest in a new hobby. Wood burning is such a great hobby because it doesn't require much space and your brother can make almost anything. He can wood burn names on a hanger that is wooden as a holiday gift, wood burn a cutting board with a signature, or he can wood burn a relaxing scene on a slab of a tree. There are so many creative options when it comes to wood burning and it's a great gift for a man in his 50's. I highly recommend this wood burning kit for a birthday gift.
---
This product was recommended by Chris Lok from CouponDuos
We spend one-third of our lives sleeping. Therefore, a good pillow can bring a better experience to daily sleep. Sometimes we get so used to using an item for a long time that we forget it should be updated. For a pillow, long-term use may make it less supportive to the head and neck, which is not beneficial to our health. This pillow provides moderate and above support which is perfect for back and side sleepers. At the same time, it is easy to clean, can be directly machine-washed in cold water, and can be dried at low temperature with no further special care. It will provide you with a great sleeping experience.
---
This product was recommended by Raunika Gaba from Living With Poise
A Kitchen Aid for your baker brother that too in a lovely pistachio color will do just the trick. Think about all the delicious cakes and pies you'll get to enjoy.
---
This product was recommended by Shane Paarman from Awesome Stuff 365
The personalization makes it meaningful and significant, and it can be a good way to mark an important birthday milestone, and the passing of time, by reflecting on the past and looking to the future. You could even pre-fill the journal up with anecdotes and photos from the past, especially as siblings live through so much together.
---
This product was recommended by Gennady Litvin from Moshes Law – A Law Firm
If you want your 50-year-old brother to be healthy, a pair of sneakers is an ideal present. A nice model made by an American-inspired global brand will help your sibling feel confident either while exercising in the gym or jogging. The comfort, great look, and great quality of this pair of sneakers will make them his favorite ones.
---
This product was recommended by Oguzhan Karlidag from Lotus Linen
Bathrobe is the best gift you can give yourself or your loved one. Lotus Linen Robes are comes with comfortable with matching color slippers and it has personalization option so you can make it even more special your gift.
---
This product was recommended by Susan Bel from Bayou Glass Arts, LLC
Hand wrapped and hand soldered in my studio in Louisiana. Artisan made. Metal sensitive friendly. No zinc, nickel, lead or cadmium. From inception to completion your jewelry from Bayou Glass Arts is wholly handmade and made in the USA.Your choice of wire wrap and chain length.
---
This product was recommended by Johnson Mack from Ronxs
The ideal present for candle aficionados on important days like birthdays and anniversaries is a Ronxs Candle lighter. A one-year guarantee is included with the product, covering any manufacturing flaws or functioning problems (such as a non-working power switch). The customer support team will make every effort to ensure that you are satisfied because it is important to us! The Ronxs Candle lighter is perfect for both indoor and outdoor use because it has been designed to fit in with any office or home decor plan. You may enjoy both activities without having to worry about dropping or spilling anything onto your clothes or furnishings thanks to the streamlined design, which makes it comfortable to hold while using them both during the day and while burning candles at night.
---
This product was recommended by Caitlyn Parish from Cicinia
Each month, a fresh pair of printed crew socks will be delivered to his home by this sock subscription service, just in time to replace his mismatched pair.
---
This product was recommended by Jean Chen from Cicinia
If you're stuck on what to get your 50-year old brother for his birthday, think about what he doesn't have. If he doesn't have a whiskey decanter set, you can't go wrong with getting him a custom set. Even if he does have a decanter or two already, they aren't as awesome as a personalized set. He will love how classy and impressive this set looks, but he'll love using it even more to enjoy his favorite whiskey from like a sophisticated connoisseur. Pair this set with a nice bottle of 50 year old whiskey and you're golden!
---
This product was recommended by Teoy Thompson from Ignite Speaks
Ignite Speaks Men's health bracelet Magnetism is essential for the body's electromagnetic activity. It plays a major role in overall health. Our magnetic bracelets assist the body to regain its self-healing balance. Our wellness jewelry: – Relieves muscle and joint pain as well as fatigue. – Assists with relaxation and meditation – Have no fading, discoloration and are corrosion resistant – Includes four elements to assist with overall wellness – Magnet+negative ion+germanium+far infrared
---
This product was recommended by Michael Jan Baldicana from Dream Chasers
DanisKa Wood Phone Docking Station for Men Wallet Stand Watch Organizer Key Holder is a product that is designed to make your life easier. It has an innovative design and can be easily mounted on the wall or on a desk. It also features a unique design that allows it to serve as both a watch holder and wallet stand. It has a sleek design and it's made out of durable wood which makes it long lasting. It is an amazing gift idea that will make your brother happy.
---
This product was recommended by Thomas Dean from No Meat Athlete
The YBONNE Mens Slim Wallet is a wallet designed for men who want a slim and stylish wallet that can carry all their essentials. It is made of soft and durable leather. The wallet has a money clip on the front and makes it easy to access your cards without having to take out your wallet. It is also equipped with RFID blocking features. This wallet is designed to help your brother stay organized while staying stylish.
---
This product was recommended by Lorie Carson from Real People Finder
These customizable dumbbell weights are the ideal option if he lacks space at home for a total gym. He can effortlessly choose between four weight options, one dumbbell provided during his training. He can exercise every muscle in his body with just one tiny piece of equipment.
---
This product was recommended by Lorie Carson from Real People Finder
Every year, this compact but powerful appliance tops the sales charts. At the time of writing, it has more than 7,000 5-star reviews on Amazon, many of which highlight how quick and straightforward it is to prepare two perfectly cooked hot dogs. Additionally, it will save him time and laundry, which is a benefit.
---
This product was recommended by Lorie Carson from Real People Finder
He will enter a virtual world once he connects this headgear to his iPhone or Android device. It is essential for him because, according to Amazon reviewers, the headset is comfortable enough to wear for hours of gaming.
---