This post contains affiliate links. Affiliate disclosure: As an Amazon Associate, we may earn commissions from qualifying purchases from Amazon.com and other Amazon websites.
Finding original birthday gifts for kids can be tough, so here is a list of gifts where you can find the perfect gift for the special kid in your life. There are plenty of options for a range of ages and prices.
This product was recommended by Alina Bragina from Apalipalka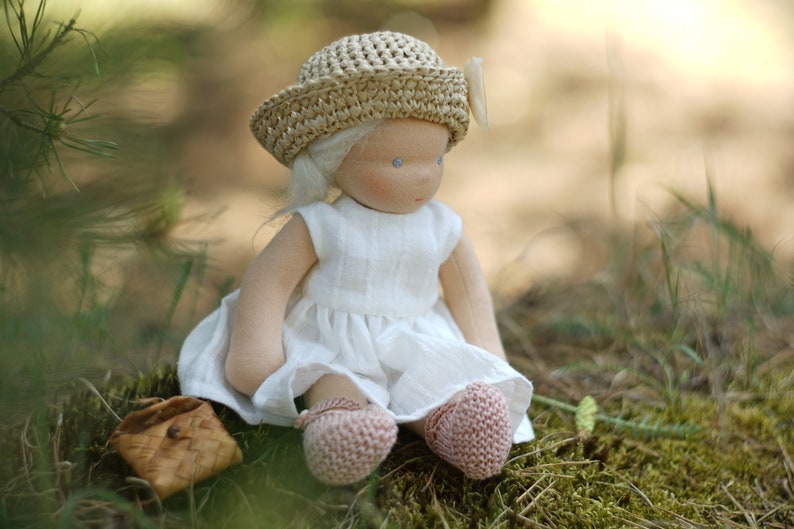 Waldorf doll Caramel is lovingly fashioned out of all-natural materials. The soft sculpture doll – gift for girl 3 years and older. The textile doll Caramel dons a lovely mohair hairdo, tied in funny ponytails. Her big, blue eyes and blushed cheeks, colored with eco crayons, give her a face that your daughter will adore.
---
This product was recommended by Riya Aarini from Riya Presents
Ollie's Backpack is a thoughtful early reader for children ages 5-7. Kids who worry will be especially inspired by Ollie's ability to turn worries into things that are useful!
---
This product was recommended by Mathew Peter from Ownage Fashion
Replace digital tablet with a physical sketch board that brings back the physicality of the art and learning experience for kids.
---
This product was recommended by Jodi Wheeler-Toppen from Once Upon A Science Book
Animal-loving kids will fill hours with this pair of science books, packed with safe and pet-friendly activities to do with their dog or cat. Each activity is paired with step-by-step instructions, clear and interesting scientific explanations, and cool photographs shot specifically for this book. Hands-on activities and fun information for budding scientists prompt further learning and offer a behind-the-scenes look at current pet research. It could be a long summer with camps closed, but these books offer fun and educational options that will entertain the kids and their pets.
---
This product was recommended by Carolyn Kamii from PlayOsmo
This award-winning kit (UPDATED), which helps kids with problem solving, math and spelling, has been updated with a brand new look, more advanced hardware and new engaging content. Comes with 5 STEM-focused game apps (Tangram, Newton, Masterpiece, Numbers, and Words), and with OSMO Base for iPad or Amazon Fire, Tangram pieces, Numbers tiles, Words tiles, plus Stackable storage for each game. Games are designed for beginner to expert levels. Parents can track a child's progress on a parent app.
---
This product was recommended by Andy Shea from EasyTech Trading Pte. Ltd
These bracelets are ideal for birthday parties for kids and teens with themes such as outdoor, backyard games, summer, scout, hiking, camping. They can also be used as giveaway presents, motivational gifts from teachers to students in school events, or stocking stuffer.
---
This product was recommended by Sonya Schwartz from Her Norm
Well, who doesn't like a trendy hoodie? Children will love this coat due to its cool features and they can use it during the rainy or winter season. They will look adorable wearing this and it is also amazon's best-selling coat.
---
This product was recommended by Sonya Schwartz from Her Norm
Bikes are what define a child's dream. You can assemble this thing in less than 1 minute and it also contains unique features that your child will love. This is perfect for children who are still learning how to balance on their bike.
---
This product was recommended by Sonya Schwartz from Her Norm
This interactive role-playing toy is best for children who love role-playing It contains several features that will blow your children's curious mind.
---
This product was recommended by Karl Armstrong from EpicWin App
The best birthday gift for children I recommend is Code Piano S.T.E.A.M. As a tech-savvy myself, I always wanted for my godchildren to have technical know-how growing up. However, I didn't want to stress the kids so early. Finding this toy off Amazon was one of my best purchases because I was able to introduce coding with my godchildren without losing the fun of having and using toys. With the integration of music and playing the piano (incorporated through sound-based projects), kids will not notice they are already learning during the process. Kids can learn variables, loops, troubleshooting and even correct syntax while playing this ingenious toy.
---
This product was recommended by Robert Lambert from Crunch Tech Inc
I am suggesting this product for many reasons. One, I invented the product and its great for kids and adults on the go with little time for breakfast. Its a high quality product and reusable.
---
This product was recommended by Francoise from Feltman Brothers
Celebrate in style when you dress your little girl in this beautiful smocked dress, perfect for special occasions such as her birthday. Beautifully designed with scalloped stitching lines both the collar and puffed sleeves. Smocking is covered in a beautiful diamond stitching and is embellished with hand embroidered clover flowers with a delicate pearl in the center of each. A zigzag design ends off the smocked bodice, and then continues into classy pleats down the length of the dress. Ties in the back with a lovely bow for the perfect finish.
---