This post contains affiliate links. Affiliate disclosure: As an Amazon Associate, we may earn commissions from qualifying purchases from Amazon.com and other Amazon websites.
This article showcases our top picks for the Best
Lockdown Gifts in Ireland
. We reached out to industry leaders and experts who have contributed the suggestions within this article (they have been credited for their contributions below). We are keen to hear your feedback on all of our content and our comment section is a moderated space to express your thoughts and feelings related (or not) to this article 
This list is in no particular order.
This product was recommended by Niamh Jordan from Which Watch Next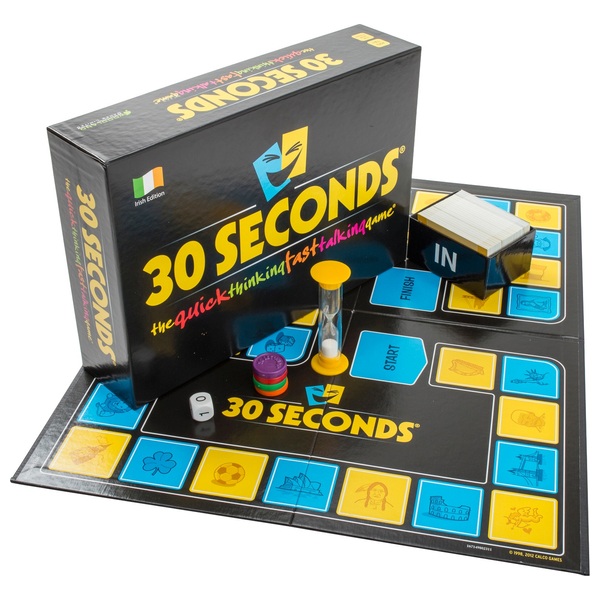 It's a super competitive board game, where you split the group into teams. Each team takes a turn to take a card. On the card are 5 words. The person with the card must describe these words to their teammates without saying the written words all within 30 seconds. This game will get the group laughing wildly, it's a perfect family game as well as one to play over a few drinks at night with mates. This game is available on a number of online retail outlets, like Smyths Stores. This game is also available in a UK edition too.
---
This product was recommended by Ja-ne de Abreu from Ja-ne
Being in lockdown is hard. Sassy Food is a fun photo book designed to empower you to bring joy to one's self by growing food regardless of space and budget constraints. Sassy Food: How to Grow and Cook Food with Your Own Farm Any Size/Anywhere/Any Time of Year with Any Budget. It is truly a gift that gives back in many ways. Ja-ne de Abreu provides a virtual walk in the topics while sharing the myriad of ways to create your own edible jungle wherever you are in the world. 170 pages of glorious color photos of beautiful Eve Models along with forests of Hawaii inspire the reader to bring peace to their fingertips. All basics are covered from growing food from various growing methods, to cultivation, and everything in between. It includes a flexible cooking technique showing how to create your own delicious recipes using a symphony of ingredients, without measurements. 20% of proceeds provide grow kits and workshops to underserved communities.
---
This product was recommended by Emmanuella Ndukwe-Obiukwu from MovewithElla
Lockdown can be boring, especially when you are alone, but how about getting some friends over and playing a game, a crazy and funny game. One you can play is a car game using the cards from Cards against Humanity. Honestly this has to be one of the funniest card games I have played, and it brings out the awkwardness and crazy in people. This game is really simple to play, and really good. This card game would really bring life back into your home or between your friends during this lockdown. This game doesn't need so much explanation, but if you are curious, get the game, invite a few friends, grab a glass of wine and see how it goes. Who knows, you may see yourself playing the game much more than you thought.
---
This product was recommended by Tyhira Stovall from The OMG,LLC
If 2020 taught us anything, being locked down can have its ups and downs. One thing that keeps us in great spirits is maintaining a self care routine. ANd what better way to develop a self care routine with Shedavi clean beauty products. Keep your hair feeling and looking good all lock down. The Shedavi Healthiest Hair System is a vegan hair care, maintenance and health solution for consumers passionate about clean beauty, botanical-rich formulas and products that actually work! Our Everything Bundle is exactly what it says, EVERYTHING. You can cleanse, condition, treat, nourish and style with this system effortlessly! Our everything bundle includes our award-winning Hair & Scalp Growth Elixir and our Hair Growth Vitamins. This bundle also includes the following: – Crowned Moisturizing Shampoo – Crowned Moisturizing Conditioner – Crowned Protein Masque – Crowned CoWash – Crowned Leave-In Conditioner – Crowned Wash + Go Styling Gel – Crowned Revitalizing Mist
---
This product was recommended by Jordan Smyth from Gleamin
A 100% natural Vitamin C Clay Mask, featuring the powerful glow-duo Turmeric & Aloe Vera. This mask leaves your skin utterly radiant in just 10 minutes. It fades dark spots, improves texture, and visibly evens skin tone, naturally. It reduces acne and scarring. It is safe for skin types, vegan & cruelty-free.
---
This product was recommended by Lauren Lusby Fernandez from Talk Back Barbie
Talk Back Barbie: The Secret Service Edition is the most inspiring, encouraging, motivating, and funny books of 2021. When a sassy, ambitious, Southern blonde debutante who can't keep her mouth shut joins the Secret Service, she stirs up enough trouble to become a White House legend—the one and only "Talk Back Barbie." Everyone wants to know what it is like to work with the Secret Service, but what people don't know is that once upon a time there was a sassy, ambitious, Southern blonde who joined the Secret Service and caused chaos and mayhem! Your readers will relish in the story of a Georgia girl who had no military or law enforcement background, fighting her way through Federal Law Enforcement Training, overcoming discrimination, and gaining a strength she never knew she had. Talk Back Barbie proves that no matter what life throws your way, you can overcome it through a positive mindset, mental strength, and laughter. Your readers will be inspired and encouraged to keep going towards their dreams no matter what! And who doesn't need an extra boost of encouragement and laughter during a lockdown?
---
This product was recommended by Nikki Webster from Brit on the Move
Everyone needs a hobby when in lockdown, and what better hobby than making your own beer? And, we all know the Irish love their beer! Why am I suggesting this kit: 1.Which Irish person does not love beer, and if they don't – they know someone who does! 2. You get to create your own beer and then serve it post lockdown—a great conversation starter around what did you do during a lockdown? Think bragging rights. 3. Makes 5 liters of 5.4% ABV IPA 4. Includes all equipment required to make your own Beer at Home 6. Refills Available
---
This product was recommended by John Peterson from Safe Drive Gear
Getting stuck into a jigsaw is a much better way to keep your brain engaged than sitting in front of the TV for hours. It's hard to believe that so many puzzles are sold-out during these days of stay-at-home, so I was glad to find this one that is such a pretty picture of a place we've visited it. It took our family about 9 days to do, and it was a good mix of challenging. but doable because the picture has a good amount of color variation. There are also letters on the back indicating different sections, but we didn't use those and did it the old-school way.
---
This product was recommended by John Peterson from Safe Drive Gear
Mindful Thoughts at Home is a lovingly gathered collection of reflections appreciating the often un-noticed details of what makes a house a home. Our homes should be places where we can retreat from the world and feel relaxed. Mindful Thoughts at Home is a tranquil exploration of ways we can enhance our homes and ourselves by using mindfulness techniques.
---
This product was recommended by Sara Castillo from Ballistic Media Group
DMoose phenomenal multi-purpose yoga mat gives you a platform to perform different exercises such as meditating, elbow planks, Pilates, and stretching. The smooth foamy surface provides you stability, flexibility, and productive sessions of your daily workouts.
---
This product was recommended by Sara Castillo from Ballistic Media Group
We use double thick threading to reinforce the seams and industrial-grade plastic for the clasps. We added thick, soft padding to the roller skates that keep feet happy as a clam while skating around. The inner foam lining and rust-resistant aluminum frame provide support to the foot and ankle that simply can't be matched. Others use glue to keep the skates together; we stitch ours. The result is a much higher quality, durable skate.
---
This product was recommended by Sara Castillo from Ballistic Media Group
The Portable All-in-One Table Tennis Set is what you need! Play anytime, on any table! Complete with a retractable net, 4 high-performance table tennis paddles, 3 white balls and 3 orange balls. Includes a premium case for easy storage and travel. Super-fast one-click set up that won't leave any marks, Retractable net up to 72 wide, Comes in a gift-ready box!.
---
This product was recommended by Sara Castillo from Ballistic Media Group
Revitalize thinning hair, saggy dry skin, and brittle nails. Our winning combination of Collagen Peptides, Biotin, Hyaluronic Acid, Vitamin C and Zinc works by boosting cell regeneration and moisture levels. Collagen protein powder helps balance blood sugar levels, increases energy levels, boosts metabolism, supports the gut, improves digestion and is a natural liver detox.
---
This product was recommended by Sara Castillo from Ballistic Media Group
All Natural, Supports Bones, Immune System, and Energy levels. Our vitamin D3 is unique because it contains vitamin K2 as well – an ingredient that's essential for proper D3 absorption and utilization. While vitamin D3 helps promote calcium absorption, K2 helps direct the calcium is where it's needed – like in the bones and teeth, not the arteries and kidneys. Vitamin K2 also helps regulate the amount of calcium used by the body, helping to discourage calcium buildup.
---
This product was recommended by Sara Castillo from Ballistic Media Group
Developed by a licensed Psychologist, Couple Connect makes the perfect gift for new couples looking to spark some interesting conversations on your next date night. Backed by psychological science, Couple Connect was designed to improve communication, romance, and trust between you and your loved one. And if a stronger connection isn't enough, the company has pledged a donation of 1 meal to Feeding America for each game sold.
---