This post contains affiliate links. Affiliate disclosure: As an Amazon Associate, we may earn commissions from qualifying purchases from Amazon.com and other Amazon websites.
This article showcases our top picks for the Best Christmas Gifts For Her in the UK. We reached out to industry leaders and experts who have contributed the suggestions within this article (they have been credited for their contributions below).
We are keen to hear your feedback on all of our content and our comment section is a moderated space to express your thoughts and feelings related (or not) to this article This list is in no particular order.
This product was recommended by Sher from Milci Skin
Restore your complexion with this luxurious serum filled with moisture that provides a soft and silky skin finish. Enriched with 63% ginseng root water and 3% snail mucin, this serum is great at evening skin tone, reducing hyperpigmentation and scarring, and improving fine lines and wrinkles.
---
This product was recommended by Sher from Milci Skin
Did you know the skin around your eyes is the thinnest on your entire body? This is why eye creams are important: they are specifically formulated to treat this delicate area. This anti-wrinkle eye cream contains amazing antioxidant energy from fermented ingredients to keep your eye area hydrated and youthful, while brightening the under eye area.
---
This product was recommended by Sher from Milci Skin
Essence is one born-in-Korea trend that is less well known outside of Korea. In Korea, though, if you ask any woman what the secret to their flawless, glass-like skin is, they will tell you it is an essence. The Neogen Real Ferment Micro Essence is a cult favourite: it hydrates, brightens and plumps the skin all at once.
---
This product was recommended by Dexter Grima from VitaBright
VitaBright products are high-quality natural health supplements and vitamins. This is a very practical idea as a great gift for her this coming Christmas. It boosts and maintains essential nutrient levels in the body to aid general health and well-being. All products are to revitalize, enrich, and maintain not just your hair, but also your skin, and nails to let your inner beauty grow and shine with specially formulated nourishing supplements. All of the capsules and soft gels are 100% natural, non-GMO, manufactured in the UK, and formulated by experts to ensure maximum absorption and bio-availability. The combo products are two of the bestselling edible beauty formulas. These supplements have been designed to complement each other and work together to provide your body with the perfect combination of nutrients to maximize skin, hair, and nail health. This has a longer result because it nourishes first the foundation which is on the inside that will eventually flow and be visible on the outside.
---
This product was recommended by Katie Davis from Fashionable Clothing UK
The iconic shoe, which was first introduced back in 1967, remains to be a beloved silhouette from Clarks to this day thanks to being one of the most versatile and durable designs. The Wallacraft Lo is a fresh twist on the classic. With the same moccasin construction and lace-up style, the Wallacraft Lo features a raised crepe sole for a girlier look with added comfortability.
---
This product was recommended by Stephen Curry from CocoSign
I recommend these fluff slide slippers because they are very comfortable and soft, showing how much you care for her. Also, they are very stylish and wide, accommodating all sizes of feet plus making them feel like baby's feet. Their soft sheepskin makes the slippers warm in nature hence perfect for the Xmas season.
---
This product was recommended by Stephen Curry from CocoSign
I recommend this product because it is very needed after a tiresome day or when pains and aches kick in, it is basically doing your massage. It is best for strained back, tight hamstrings, pains in the neck, and tense shoulders. Also, the massager includes a wall power adapter, a car charger, and a durable carry bag, which makes it portable to the place of your liking, be it at the home, office, the beach, or even in the car when you are traveling.
---
This product was recommended by Warren Dai from OurPCB Tech
♥ CHRISTMAS COUPLES MUGS SET- Mugs are in simple but modern forms and in matte finish. Clean, contemporary lines paired with an off-white color palette. Complete image on each mug. Set of 2 coffee mugs. Made of stoneware ceramic. 12 oz (355 ml). Microwave and dishwasher safe ♥ COUPLES GIFTS FOR CHRISTMAS- Cute Christmas coffee mugs for coffee lovers! Our matching his and hers couples coffee mugs are the perfect his and hers gifts for Christmas, couples, girlfriend, boyfriend, husband, wife, men, fiancé, fiancée, women you love, newlywed, married couple, bff, parents, sister, brother, son, daughter, and soulmate ♥ CUTE CHRISTMAS GIFTS FOR GIRLFRIEND OR BOYFRIEND- These Merry Christmas couple coffee mug set is a cute Christmas present for her that we know is perfect, and a cool christmas gift for him that we know he'll treasure. Unique love and Christmas presents for the special one, long distance relationships, thinking of you, or just because. Cool ceramic gifts for men or women ♥ HIS AND HERS CHRISTMAS GIFTS- A his and hers coffee mug set. Perfect his and hers gift for Christmas. Feeling loved as soon as your loved ones unbox your Christmas gifts as our coffee mugs set is packed in a eco-friendly, gift-giving ready packaging box with our signature boy and girl graphics. You can write your own love messages on the box to sweeten up your gifts for him or for her ♥ ROMANTIC CHRISTMAS GIFTS FOR HER AND HIM – Novelty Christmas gifts to make your significant other merry! Forget the candles and the soft music. Spice up your relationships with our fun-filled and novelty Christmas gifts for couples. Say I love you in the sweetest, most aww-worthy way!
---
This product was recommended by Warren Dai from OurPCB Tech
💝 【 Love Christmas Gifts for Women 】 This PET galaxy rose is protected in a durable glass dome, never-withering beauty, and is a symbol of eternal love. It means the owner knows how to love, and is also loved. So the love will never end. Wife, girlfriend, her, or women friends, you could use this beautiful item to express your love in the coming Christmas. 👒 【 Stunning Christmas Gifts for Girls 】 Rainbow holographic coating reflects lights, making this galaxy rose sparkle an iridescent effect. Gold foil stem endows the rose a kind of elegant beauty that no one would refuse. On a date, birthday, graduation, or party ball, you can use it to put smiles on girls' faces, and let them know how beautiful they mean to you. ☃️ 【 Warm&Romantic Decor 】 Surrounded by the LED light garland, the whole glass dome shines in warm white light and is filled with a cozy and pleasing atmosphere. This galaxy rose can add romance to candle dinner as ambiance light, paint colors for life as ornament/decoration, or simply light up kids' bookshelf/desk/bedside as a night light. 🌈 【 Perfect Birthday Gifts 】 Roses have a long history ever since the existence of genus rosa plants thousands of years ago. Different color roses have different meanings, but Love, Beauty, and Peace are forever symbols. Rainbow galaxy rose is a blend of them, on behalf of various good: friendship, uniqueness, pureness, passion, kindness, etc., perfect as birthday gifts for mom, friend, or anyone special in your life. 🎁 【 Safely-Packed Gifts 】 Galaxy rose, LED light strip, pinewood base, and the glass dome, everything is assembled. A fully-sealed design enables us to take this galaxy rose dome freely up and down without the fear of dropping it off. For the package, we have 4 pieces of foam in total with a beautiful and sturdy outer gift box to protect this galaxy rose safe for travel.
---
This product was recommended by Warren Dai from OurPCB Tech
BURTS BEES GIFT: Give the gift of healthy, glowing skin with our Travel Size Gift Set! Not only do our natural products make the perfect stocking stuffer, but they nourish skin throughout the winter to keep your loved ones glowing on the inside & out. SKIN CARE PRODUCTS: Pamper from head to toe with this giftable set including 5 travel size Burt's Bees favorites: Soap Bark and Chamomile Deep Cleansing Cream, Hand Salve, Milk & Honey Body Lotion, Coconut Foot Cream and Beeswax Lip Balm. HAND & FOOT CARE: Pamper and moisturize dry, rough, cracked skin with our Coconut Foot Cream and Beeswax Hand Salve to leave skin feeling restored and soothed. BODY & FACE: For total body skin care, try our Soap Bark and Chamomile Deep Cleansing Cream, Milk and Honey Body Lotion and our Beeswax Lip Balm to leave lips, face, and body feeling moisturized and protected from the harsh winter months. ALL NATURAL: Made with natural ingredients, these Burt's Bees skin care trial products are formulated to condition and hydrate skin all day long.
---
This product was recommended by Sally Stevens from FastPeopleSearch
Since most of the ladies are busy decorating the house and prepping meals for guests in the holidays, These comfy low-top slippers would be perfect to show your care for them. The soft-suede texture of these slippers would provide warmness to cold feet and prevent any rashes or cracked heels. Plus, It's priced at only 26 Euros which makes it worth for money! Actually, It's a bargain for the comfort and warmness these furry slippers provides.
---
This product was recommended by Irene Sapir from JoyAmo Jewelry
It is a very popular present for moms, grandmothers, girlfriends, for Christmas! You can engrave up to 4 names and choose the metal: Sterling silver 925, 18k rose gold plating or 18k yellow gold plating. You can also choose the length of the chain: 14" (child), 16", 18", 20", or 22")
---
This product was recommended by Cindy Corpis from SearchPeopleFree
This is a gift for every occasion, and you can gift it to your best friend or loved ones. It contains all women's gifts, and scented candle gift sets are of the highest quality, which will arrive in a premium gift box. Moreover, this scented candle gift box attracts an ideal sweetness, and fragrant aromas illuminate any home. Once gifting this box to anyone, they will understand your retro and traditional elegance, which is calming and soothing.
---
This product was recommended by Jovy C. from fillhappy
It is also a unique and thoughtful DIY gift this holiday season, especially for female partners and loved ones that love decorating their spaces.
---
This product was recommended by Damla Aksu from Swiss Impact Store
Give your body and the planet a soft and sensual gift, a kimono that feels like an aquarelle. You'd think the highlight of this kimono is the subtle contrast of the robe with its belt, dyed with splashes of marigold waste flower. But actually, the robe is also naturally dyed with natural indigo. And the best is that the fabric is all hand-woven cotton linen 100% organic GOTS certified and from an ethically certified producer. It cannot be more natural than this, because your bare skin deserves it. Don't be surprised if you feel like a goddess blessed with flowers. Unique fit for all, 115 cm long.
---
This product was recommended by Crystal Fenton from Vegamour
It's safe for use on all hair types, wet or dry hair, and features gentle bristles that both stimulate the scalp and its circulation while offering a calming massage they can do to relax at home or while on the go! .
---
This product was recommended by Crystal Fenton from Vegamour
GRO Revitalizing Shampoo and Conditioner Travel Kit is another option for any giftee in your life, making it easy for them to get great hair on the go! The clean, color-safe duo utilizes plant actives and the first-of-its kind vegan keratin, Karmatin, along with microencapsulated vegan b-SILK protein, to leave hair shiny, healthy and hydrated. It's also suitable for all hair types.
---
This product was recommended by Crystal Fenton from Vegamour
Make our multi-tasking Pure Marula Oil which can be used on hair, skin and nails, your new go-to gift. It's especially great for the holidaysbecause it's easy to take anywhere (use it to moisturize cuticles or tame flyaways during holiday travel or parties). Plus, your gift recipient will appreciate that along with our sister company, Southern Botanica, we offer fair trade economic opportunities to women in Namibia who harvest the marula nut.
---
This product was recommended by Crystal Fenton from Vegamour
A three month supply of GRO Biotin Gummies are both a healthy and delicious treat to gift! They include 16,666% of your daily value of biotin, or 5000 mcg, along with folic acid, Vitamins A, B-5, -6 and -12, C and E, zinc and more key minerals to neutralize free radicals, supporting and nourishing the scalp and hair. Plus, the strawberry flavor vegan gummies are a tasty way to get in a daily dose of vitamins!
---
This product was recommended by Tracy Anderson from Top Reveal
This "Funny Sexy Gift" coffee mug would be the best gift! It will help her enjoy a cup of coffee or tea to warm her mornings. Giving someone an everyday reminder that there's happiness everywhere.
---
This product was recommended by Tracy Anderson from Top Reveal
Wine glass also has an impact on the taste of the wine as it suspends the aroma on the top. It's amazing how she'll remember you when she takes on another drink.
---
This product was recommended by Jeremy Ong from Home Security Hub
That's product is a perfect gift for her, especially at Xmas. It's a stunning necklace, with a pretty design. Any woman wearing this necklace will get amazing complaints on how much it's pretty and chic. Also, the silver color makes it very elegant around the neck.
---
This product was recommended by Fintan Costello from Bonus Finder
Not only is this necklace beautiful but it also has a deeper meaning than traditional jewelry. With a birthstone necklace, you can literally keep your loved ones close to your heart! I think this is a great gift idea for all women, but especially for those with small children or for women whose children have already left the nest.
---
This product was recommended by Yuuna Morishita from The Japanese Way
This is a perfect gift for her during Xmas! The smell of the candles is calming and helps the mind to relax. Also, the notepad is stunning with the matching pen. I fall in love with the floral design. Highly recommended.
---
This product was recommended by Sandra S. from AbsoluteDoha
This is a wonderful choice for her especially who loves high-quality ballpoints. Their colors are really bright. Also, they are classic and chic to have. Highly recomended as a gift.
---
This product was recommended by Natalia Dziazak from Positive Prints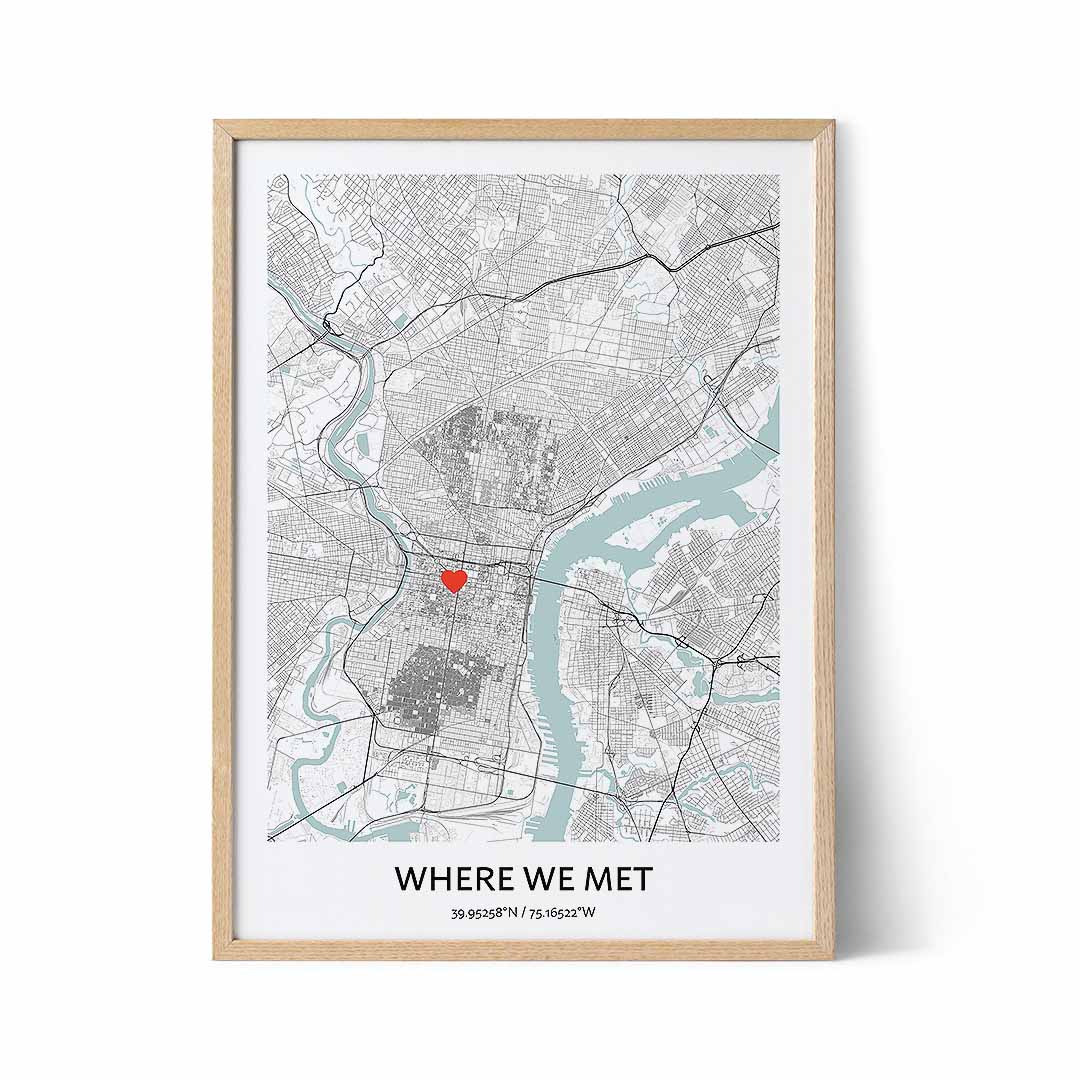 Where We Met Poster is a map of the place where you first met your significant other. Zoom in and out the map to find the exact location and mark it with a heart symbol. We predesigned some styles but you can choose your colors as well. Add up to two lines of custom text or dedication to talk about your special place. This poster is fully customizable which means that you can decide also about the size, shape and format of your print.
---
This product was recommended by Nikki Webster from Brit on the Move
A pretty Rose plant delivered ready-to-display in a decorative watering can, this lovely afternoon tea is sure to put a smile on the face of your loved one!
---