This post contains affiliate links. Affiliate disclosure: As an Amazon Associate, we may earn commissions from qualifying purchases from Amazon.com and other Amazon websites.
This article showcases our top picks for the
Gifts For Sons In Their 20s
. We reached out to industry leaders and experts who have contributed the suggestions within this article (they have been credited for their contributions below). We are keen to hear your feedback on all of our content and our comment section is a moderated space to express your thoughts and feelings related (or not) to this article 
This list is in no particular order.
This product was recommended by Patrick Sinclair from All Home Robotics
I'm referring, of course, to a fitness band. They are simple, affordable, yet elegant pieces of tech that usually pack a lot of useful features for the price. Chief of those are the health features. They keep track of activity such as daily steps taken, calories eaten, and even hours slept, and display all the data to you in an easy-to-digest form. Quantifying your daily lifestyle habits is a great way to figure out ways to improve, which is the primary reason why a fitness tracker is such a useful tool. All of them also allow health monitoring in some capacity, whether it be heart rate monitoring, blood oxygen level detection or even a full ECG in some cases. But their uses aren't limited to just health. Obviously, all fitness bands double as a stylish-looking watch, and all of them are also able to connect to your phone via Bluetooth and provide convenient features like displaying your notifications and reminders, letting you control media playback, answering calls, navigating with GPS, and even contactless payment methods in some cases. With the value for money associated with these things I see it as the perfect gift for someone's son, specially if you want to encourage a healthy lifestyle. My personal recommendation for a fitness band is the recent Fitbit Charge 5. It comes packed with all the features of a great fitness band – even the fabled contactless payment! And all of that comes at a price point that doesn't even come closer to breaking the bank.
---
This product was recommended by Tim Connon from ParamountQuote Insurance Advisors
My father-in-law got me this very useful gift when I was in my 20's. This has an alarm setting that goes off right when a severe weather warning comes letting you know it may be time to take shelter if need be. It functions much faster than other weather alerts which is why he got it for me. I have been using it for a long time and it has warned about Tornadoes, Hurricanes, etc. It is a great piece of tech.
---
This product was recommended by Ashley Wright from Naked Nutrition
For many, deciding what to pick as gifts for the various people in your life can be difficult! Fortunately, if they happen to be into health and fitness you at least have an idea of where to start. Whether it's to help the muscle mass building (or maintenance) journey, weight loss or support general health, a tasty and good-for-you protein powder is an optimal gift for an athletic or health loving son! Naked Whey Grass-fed Protein Powder is completely free of additives and artificial sweeteners and can come in flavors like Vanilla or Chocolate to hit the sweet tooth just right.
---
This product was recommended by Steven Duncan from Ball Are Life
Gifting, particularly as kids age, can become more-and-more difficult. With lifestyle changes, personal preferences being somewhat fickle, and new gadgets and electronics being presented on the daily, finding the perfect gift for your 20 year old son can be quite cumbersome. And as a man in his early 30s, I like to believe that I have a somewhat good grasp on what men in their 20s still enjoy. That is why one of the best gifts for a son in their 20s, especially if they enjoy coffee, is a Wacaco Nanopresso. This machine is able to brew a cup of espresso on the go. And without the need to charge the device, it can be a perfect gift for use before work or school. As your son ages into his mid to late 20s, and as more-and-more responsibilities pile on, he'll appreciate this thoughtful, unique gift that he can use everyday.
---
This product was recommended by Lynda Fairly from Numlooker
Engraved Leather Bifold Wallet is one of the best gifts for a son from his mom or dad. The wallet contains a beautiful message from his dad that motivates him to work hard and achieve the goal that he or his parents have framed or planned for him for his life. The wallet is a tested product and can contain various cards such as debit, credit, visa, etc. The consumer can claim a full refund from the company if the product failed to satisfy the customer.
---
This product was recommended by Lynda Fairly from Numlooker
A personalized pocket watch is one of the best products and gifts that can be gifted to a son or daughter from the parents that would remind them of the things they are supposed to do. The product carries a special and beautiful message for a son from their parents which reminds him how much hard work he has done to fulfill the dreams of his parents and how proud his parents are of his success.
---
This product was recommended by Stephen Curry from CocoSign
This is a modern-looking, elegant and sturdy 4ft football table. It is built for durability and can withstand intense play. The player rods are easy to grip, enabling precise control of the players. Additionally, the table is foldable hence convenient for storage when it is not in use. Since many men in their 20s tend to be interested in football, this table is a stellar gift.
---
This product was recommended by Stephen Curry from CocoSign
For many men in their 20s, fun and parties are a massive part of their lives, making this drinking tower game an excellent gift. It consists of 60 wooden blocks with challenging, funny, and cheerful dares written on them. The blocks are durable, and the package also includes four shot glasses.
---
This product was recommended by Phillip Villegas from Three Pedal Mafia
This beautiful and thoughtful gift is perfect for your son. This wallet is both practical and valuable. For a long period, the etched quote keeps its attractiveness. The embroidered lining of this wallet prevents RFID signals, ensuring the protection of your credit/debit cards, ID cards, and driver's license.
---
This product was recommended by Domini Leather from Domini Leather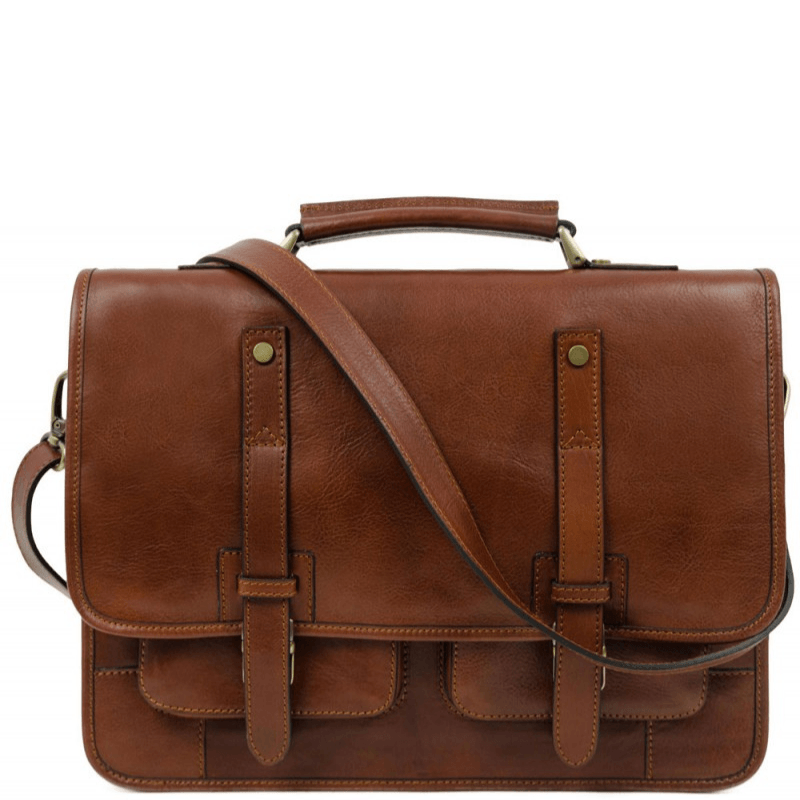 Our briefcase / backpack A Midsummer Night's Dream is absolutely a super leather bag for a young man in his 20s. In addition to the fact that it's made out of the highest quality full grain Italian leather, this briefcase is classic, elegant and yet modern all-in-one. A young man who is starting his studies in university or getting his first job needs to look respectable and reliable. Nothing makes that impression better than an authentic leather bag. On top of being a briefcase, A Midsummer Night's Dream converts into a backpack or a shoulder bag, making this a 3-in-1 bag. So, no matter the situation, this leather bag will adapt to your needs better than any other bag.
---
This product was recommended by Shahrukh Mushtaq from The Jacket Maker
Looking for something cool and useful for your 20-something son? Get him The Dean Biker Jacket from The Jacket Maker—it's a wardrobe essential that will never go out of style and a perfect gift for young men who keep up with fashion and love timeless elegance. Made from real durable cowhide leather, this black leather jacket has a two-toned finish and elegant detailing to elevate any outfit. The best part is that it is available in sizes XS to 3XL ensuring that there's a perfect fit out there for your boy.
---
This product was recommended by Alina Clark from CocoDoc
Just by seeing it in person you notice the leather is high quality. At touch you can feel how soft and durable it is. I've been using it for months now and looks like i just got it out of the box. Comes in a really nice box ideal for any gift, I really like that it has two compartment, keeps everything organized. Its not too bulky as some wallets, I can last all day using it in my back pocket comfortably, although I removed the card holder, only use it in special occasions. Would definitely recommend this to anyone. My friends saw the one I got and had me order them a couple. This is the best choice look no further.
---
This product was recommended by Cecilia Pinto from Better World Apparel
Because they care about sustainability, a lovely gift to men in their 20's is a pair of recycled ocean plastic eyewear. The Sea2see collects ocean plastic waste, nets, and ropes in coordination with fishing communities in Spain to create their Italian designed eyewear.
---
This product was recommended by Chiara Gomiero from Handy Wine Guide
If your son is into making cocktails, this Mixology Bartender Cocktail Set is going to be the perfect gift for him to up his game.
---
This product was recommended by Chiara Gomiero from Handy Wine Guide
If your son is into BBQ cooking, this rustic Gentlemen's Hardware BBQ Apron will definitely come in handy.
---
This product was recommended by Chiara Gomiero from Handy Wine Guide
This Darth Vader mug is a great gift for any Star Wars lovers! May the force (of coffee) be with you!
---
This product was recommended by Rousseau Vestal from Find The Aisle
Bracelets of courage and inspiration are ideal for your teenage son's birthday, graduation, or any other significant occasion. The bracelet is ideal for any gift-giving occasion, including Christmas, Anniversaries, Thanksgiving, Valentine's Day, and Birthdays. This wristband with Stainless Steel Link Chain Bracelets for your Son is a great approach to inspire, inspirational phrase engraved, and show your love for your son.
---
This product was recommended by Nora Mitchell from Household Advice
One of the best gifts to give your son if he is in his 20s is a portable bluetooth speaker. These are great to bring to friend's houses, the beach or to simply use in their own bedroom. The Bose SoundLink is a high quality speaker that plays music clear and crisp and has a very long charge, making it perfect to take for road trips. A good quality speaker is also something a young person might not buy themselves, but is sure to be well received! This speaker also comes in a variety of colors and can easily connect to any smartphone. It is the perfect gift for any music lover and will last them a lifetime. It is made from quality durable materials which means you won't have to worry about it becoming damaged.
---
This product was recommended by Daniela Sawyer from FindPeopleFast
Excellent for staying active at night in the winter. The light hat with no hands LED beanie is a great gift for men, women, teen boys, and teen girls who enjoy outdoor activities. Examples are running, hunting, hiking, camping, biking, jogging, dog walking, fishing, grilling, handyman work, auto repairing, and other activities. Cool gift ideas for him and her for Thanksgiving Day, Christmas stocking stuffers, Secret Santa gifts, Birthday gifts, and other gift-giving occasions.
---
This product was recommended by Daniela Sawyer from FindPeopleFast
Authentic Wrangler men's quilted long sleeve lined Flannel with hood. This Flannel has a polyester lined body, interior, two pockets, and a brushed flannel exterior, making it ideal for cold winter nights. The jacket provides versatility, comfort, and warmth, making it a must-have for the fall and winter seasons.
---
This product was recommended by Peter Lloyd from Giftsbay Magazine
Sons in their 20's may be away at college or have moved out with friends. They may not be cooking gourmet meals, but let's face it, eating out can get expensive. A countertop pizza maker is great for making homemade pizzas. After all, who doesn't like pizza? My son went through a phase where he ate pizza almost every day. Ingredients can easily be bought at the local grocery. They can even make several pizzas with different toppings to share with friends. Plus, homemade pizzas are healthier than frozen ones that taste like cardboard. This pizza maker can also be used to make giant pancakes, quesadillas, and quiche.
---
This product was recommended by Peter Lloyd from Giftsbay Magazine
Video games aren't just for kids and teens. Adults enjoy this favorite pastime as well. My son is in his 20's and has several gaming systems that he plays with friends regularly. Whereas daughters tend to communicate with friends more through text and phone calls, sons often communicate with friends through video games. My son used to spend hours on his bed playing games. However, as they get older they need more support. An ergonomic gaming chair with a footrest will provide back support and has Bluetooth surround sound. Unlike bulky arm chairs, this office chair will fit in small apartments.
---
This product was recommended by Sara Castillo from Ballistic Media Group
It's the perfect slicer guide for your homemade bread. It won't be a hard target to cut even slices. You will also have a choice to cut a slice of your desired thickness out of 3 different thicknesses, without risk of cutting your fingers.
---
This product was recommended by Sara Castillo from Ballistic Media Group
The Savvy Spade Herbal Cocktail Growing Kit is the perfect gift for anyone who loves to infuse cocktails with an herbal twist straight from the garden. This herb starter kit comes with everything you need to start growing your herbs, including only the best Non-GMO Heirloom Herb Seeds sourced from growers right here in the U.S.
---
This product was recommended by David Murphy from DropGuys
The only thing more important than a phone's protective case is the charging station. This is the place where your phone will get its juice to ensure it's ready to go when you need it. This charging station by Flanmy offers a charging place for your phone, watch, and Airpods. It looks great on your bedside table or desk, and is the gift your 20-year-old son will use over and over.
---