This post contains affiliate links. Affiliate disclosure: As an Amazon Associate, we may earn commissions from qualifying purchases from Amazon.com and other Amazon websites.
This article showcases our top picks for the
Gifts For Nanna
. We reached out to industry leaders and experts who have contributed the suggestions within this article (they have been credited for their contributions below). We are keen to hear your feedback on all of our content and our comment section is a moderated space to express your thoughts and feelings related (or not) to this article 
This list is in no particular order.
This product was recommended by Una Japundza from Prompt'd
Cards to Connect are a set of four matched cards for two people to exchange. Each card has a prompt to guide one's writing, and the cards come in five different themes, each with a different set of prompts. The Cards are a perfect activity for a grandmother to exchange with her daughter or granddaughter (regardless of how far they live), connect over a meaningful set of questions and have a keepsake of their conversation in the form of written cards.
---
This product was recommended by Tim Connon from ParamountQuote
There is no better gift for Nanna than perfume no matter what age women love and use perfume. This is an exceptional smelling perfume so I highly recommend it.
---
This product was recommended by Crystal Fenton from VEGAMOUR
The ENSO Overnight Restorative Hair Mask will pamper Mom or Nanna to a restorative night of sleep so she can wake up to soft, well-nourished hair. ENSO's intuitive technology instantly adjusts to hair on contact, helping to provide ideal amounts of moisture, volume and protection, while enhancing color and shine. Plus, it includes our Karmatin™ and micro-encapsulated vegan b-silk™ protein, to suit the unique needs of each hair type.
---
This product was recommended by Crystal Fenton from VEGAMOUR
Treat Mom to the GRO Revitalizing Scalp Massager for at-home TLC. It's safe for use on all hair types, wet or dry hair, and features gentle bristles that both stimulate the scalp and its circulation while offering a calming massage she can do to relax. Give them the gift of self-care that's as sweet as it is good-for-Mom with GRO Biotin Gummies
---
This product was recommended by Sandra Nanka from Mudbrick Herb Cottage
If your nan loves to sip on tea all day long, then grab her some delicious new tea blends made from all organic herbs. These loose leaf herbal tea blends are health promoting, rich in flavour and go a long way. You can enjoy a cuppa alongside her next time you visit.
---
This product was recommended by Will Tigerton from LeanBack Player
This wooden music box, coupled with a sweet message will surely melt your nanna's heart. This analog wooden music box has a crank that needs to be rotated so the music can be played. You don't need batteries nor electrical input, just a steady rotating hand. It plays the song You Are My Sunshine which we know our grandmothers love to sing to us when we were young. It is small and portable and can fit in the palms so you can basically bring it anywhere. Hence, this is the perfect gift for your nanna.
---
This product was recommended by Laura Johns from Questions About Me
Tell Me Your Life Story, Nana is a beautifully designed keepsake gift book to capture all of Nana's precious memories and wisdom. The simple guided journal helps mothers record their life story with over 200 questions. Once completed, the book will become a precious treasure and personal keepsake of your grandmother's most important recollections, stories and life lessons that can be passed down to grandchildren and cherished by future generations to come. It's the perfect gift for mothers on Mother's Day or for any occasion.
---
This product was recommended by Max Benz from Remote-job
For a warm and cozy gift, why not give your Nanna a nice pair of warming slippers? Warming slippers are the perfect way to keep her feet warm and comfortable all winter long. And this is what your nana can get with Intelex Warmies Slippers. Not only are they comfortable and keep her feet warm, but they also provide aromatherapy. The lavender scent helps to promote relaxation and calmness, which is perfect for older generations who may be feeling frazzled from the stress of everyday life. They come in a variety of colors and styles, so you can find the perfect pair to match her personality. Plus, they're sure to make her feel special on those cold winter days.
---
This product was recommended by Irene Sapir from JoyAmo Jewelry
She is not only your adored Nana, but also your confidant and support. She is always there for you. Let your Nana know how much you love her and appreciate her infinite love with a personalised Circle Necklace. Engrave the names of her grandchildren and she will absolutely love it. This custom-made necklace is available in Sterling silver, rose gold plating, and yellow gold plating.
---
This product was recommended by Olivia Tan from CocoFax
As a gift for her, give her this ultra-soft blanket so that she can snuggle up on the couch with her grandchildren. She and her family will stay warm this winter thanks to this chenille blanket, which comes in five classic colors and is big enough to keep them all warm.
---
This product was recommended by Olivia Tan from CocoFax
If grandma and grandpa are near or far, you can send them new photos and videos right to this digital frame so they can see them. So they don't have to worry about deleting photos, too. She said this year: Why pick just one picture to frame when you can choose from a million?
---
This product was recommended by Steven Walker from Spylix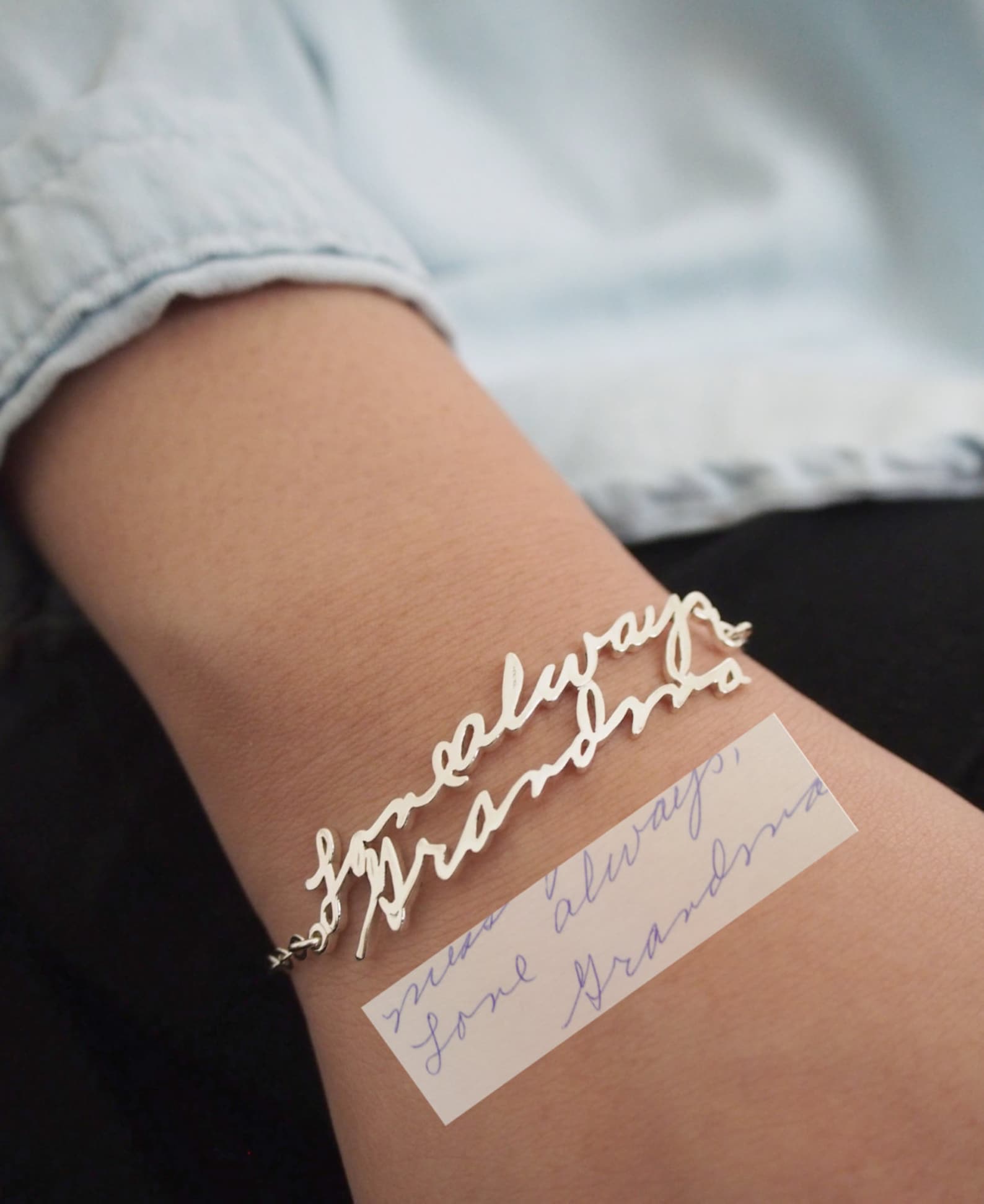 This personal and considerate bracelet is manufactured to order from a sample of your handwriting that you give to the seller. Consequently, every grandson or granddaughter may give the significant woman in their lives a well-received piece of jewelry.
---
This product was recommended by Alex Shute from FaithGiant
This interlocking circles necklace is a great symbol of love for Nanna. It consists of 925 Sterling Silver and is hypoallergenic with no nickel. You will not have problems with its longevity since it will not get discolored. It comes with a double circle pendant made up of 2 thick rings. The pendant is durable and strong. One good service is that EfyTal Jewelry will replace it for free in case it breaks. The interlocking circles necklace measures close to 18 inches in length. If this is a concern for you, EfyTal Jewelry can adjust the necklace for free if it is too long for your liking. The necklace comes in a Silver Saver bag. This bag includes anti-tarnish strips for better protection. This item also has a gift bag with a notecard to make it even more special and personal. All these factors contribute to making the necklace last a lifetime. Show your grandma how much she means to you with this symbolic and understated necklace on a special card. When she wears this pendant of 2 thick interlocking circles, she'll have a reminder that your love for each other is infinite. A perfect birthday or Mothers Day gift for grandmother from grandson or granddaughter.
---
This product was recommended by Rousseau Vestal from Find The Aisle
Necklaces are a lovely way to show your affection for Grandma. Grandma should be looked after, and you should borrow this necklace to show your gratitude to her. The length of the nana necklace may be adjusted to suit your needs, highlighting the delicate collarbones elegantly. This necklace is the greatest amulet for nana. It's a beautiful piece of jewellery that she should have. The scratch-resistant, robust, and time-tested nana necklace is adjustable. Your skin will not turn green, red, or irritated if you use low allergenic safety materials.
---
This product was recommended by Fintan Costello from Bonus Finder
Video calls became an integral part of our lives during the lockdown and showed how easy it is for us to stay in touch with our loved ones. With Facebook Portal, it is effortless to start and answer calls by simple voice controls, making it a perfect gift for even the least tech-savvy. With the smart camera and sound, you can make calls even while cooking or doing laundry as the device moves the camera according to your movements and adjusts to the sounds around you. Portal is especially great for those who are not comfortable with holding a laptop or a phone for a longer period of time, as it can simply be placed on a table or another flat surface. Calls can be made through WhatsApp, Messenger or Zoom, even if you do not have a Portal yourself.
---
This product was recommended by Holger Sindbaek from Online Solitaire
"My grandma always loved a house that smelt amazing, and always saved her good candles for company. I decided that every year I would get her a candle set so she could light them whenever she wanted. Candles make a lovely gift, and most people like the idea of a house that smells good. Although some people might have particular scent preferences, the classics are always going to make a nice gift. The Candle Couture Aromatherapy candle collection is filled with amazing, but classic scents that work to soothe you while also making your surrounding smell heavenly. There are scents like vanilla, citrus, lily, and lavender which is perfect for any grandma's preference. They also come in nice reusable tins that can have many purposes other than for a candle!"
---
This product was recommended by Camila Gil from The Travel Secret
The Willow Tree Grandmother box is a nice gift nor Nanna. It is a hand-painted resin oval box. Bas relief carbine of an older figure in cream dress holding up a baby in cream onside on the lid. Inside the bottom of the box reveals a message of love and friendship. It is perfect to store jewelry, small notes, or other small items.
---
This product was recommended by Ashley Bloom Kenny from Heirloom
Heirloom, a video-playing book that arrives in the mail loaded with your most precious videos. Just upload your precious family videos and then select from one of our 12 video book covers. Heirloom then ships a video-playing book right to the gift recipient's doorstep loaded with videos. Each video book is rechargeable so they can be cherished for a lifetime. Heirloom video books retail for $49 (free shipping) and arrive in 5 business days. My brother, Zack, and I founded Heirloom as a way to keep families connected during COVID. At the start of the pandemic, we noticed our 92-year-old Grandma Fran was left behind, unable to experience the joy we all get from sharing family videos with our smartphones. We created Heirloom to be able to send meaningful videos to people you love, especially seniors. If you can open a greeting card, you can open an Heirloom.
---
This product was recommended by Pamela Gordon from Ballistic Media Group
The powerbank feature means that when power goes out, you'll still have a place to charge your phone in the case of an emergency. At 10 x 5 and weighing only 2.3 lbs the Blazin' Sun 1500 is perfect for all your camping or emergency needs. Frosted Anti-Glare Cap that provides softer lighting that is easier on the eyes over long periods and eliminates lingering visions whites spots when accidentally staring directly into lamp. Brightness For Power Outages! 1500 lumen. Patented COB bulbs provide 360 degrees of soft white light, eliminating the dark patches created by old model bulbs. Perfect for blackouts, it lights up the entire room so everyone can read, play games or just enjoy family time. Unbelievable Runtime! Operates up to 85 hours. Be confident that when you need a storm light the Blazin' Sun will always shine.
---
This product was recommended by Pamela Gordon from Ballistic Media Group
No matter the occasion, if you have a coffee lover in your life we have crafted the perfect gift for you. Our coffee gift box is a simple, affordable and nostalgic way to show you're thinking of the coffee addict in your life. The Michael Grace coffee gift box is inspired to be more than a gourmet coffee gift set, our coffee gift box includes 5 full pot samples of American Diner coffee. Back before highways spanned the country, people traveled on scenic country roads dotted with diners serving good food and GREAT COFFEE. American Diner coffee captures the taste of that era and brings it to your home. Our coffee mug is a must have! It will keep your beloved coffee hot up to 3 hours. It is made of 304 Grade – 18/8 stainless steel with a BPA free push-seal lid. No need to worry about your loved one burning his or her hand on the cup. It is cool to the touch even while pouring in the hottest of coffees!
---
This product was recommended by Jan Pánek from Wine from the Archive
Would you like to give a really unique present to your Nanna? The easiest way is to choose a vintage wine from the same year when she was born or you can choose any other special year for her. Wouldn't you like to get a wine like that yourself? You can get these top archive wines in the e-shop, which specializes in vintage wines. You can also contact us to get advice on our selection of a wide range of unique wines, we are here for you ready to help! You can also add your personal wishes for the recipient, which we will be happy to print out on handmade paper.
---
This product was recommended by Jenea B from Pole Fitness Dancing
I think our Neoprene Tote Bag would be perfect for Nana. It can be used as a smaller everyday purse. But when you need to add additional bulkier items to it you simply unsnap the two side snaps and it becomes a much larger tote. So no need to switch back and forth from a smaller purse to a larger tote on different days… it can do it all! It is lightweight and durable since it is made out of neoprene which is the same fabric that scuba wetsuits are made out of!
---
This product was recommended by Natalie Maximets from OnlineDivorce
There's no better present for Nanna than a *cozy knitted blanket that will keep them warm and comfortable. *While reading books or watching their favorite TV shows, our Nanna's have the habit of falling asleep on their chairs. These blankets will keep them warm and comfortable, and you won't have to worry about them getting cold. Light-colored blankets are best for them because they are more appealing to their eyes.
---
This product was recommended by Phillip Villegas from Three Pedal Mafia
Grandma will appreciate cutting boards as a gift. With this useful culinary device, making unique gifts for Grandma is simple. Cutting Board for Grandma as a present is a unique way to show her how special she is. Traditional hardwoods are stronger, lighter, and less environmentally friendly than bamboo. All in one, you get a lovely piece of home décor as well as a useful culinary utensil.
---