This post contains affiliate links. Affiliate disclosure: As an Amazon Associate, we may earn commissions from qualifying purchases from Amazon.com and other Amazon websites.
This article showcases our top picks for the Best Office Gift Ideas For Clients. We reached out to industry leaders and experts who have contributed the suggestions within this article (they have been credited for their contributions below).
We are keen to hear your feedback on all of our content and our comment section is a moderated space to express your thoughts and feelings related (or not) to this article This list is in no particular order.
This product was recommended by Vickie Ellis from Cherry Americas
The CHERRY DW 9000 SLIM is the kind of gift your client will actually use – and on an everyday basis. This rechargeable designer desktop can be easily connected via Bluetooth® or a 2.4 GHz wireless unit, and the keyboard's precise scissor mechanism makes typing a comfortable and pleasing experience. With its key lettering durability, precise mouse sensor, and overall chic and sleek look, this gift will be much appreciated and not-soon-forgotten.
---
This product was recommended by Andrew Priobrazhenskyi from DiscountReactor
The gift you choose for your clients depends on the type of business you run and the type of clients you have. If you are confused about which gift to choose for your clients, I have an excellent idea for you. Give them an Amazon Gift Card of any amount that suits you, and let them choose whatever they want from the online retailers. The clients will love and appreciate it as you have given them a choice of getting anything they want with the gift card you have given them. I think it is creative as well. So, go on and give it to your clients.
---
This product was recommended by Julien Raby from Thermogears
If you're thinking of getting a gift for a business client, then this leather portfolio is the perfect choice to make. It's classy, sheek, and sophisticated design is what makes the Forevermore portfolio the right gift. The reason why I recommend this portfolio is because from my personal experience it entails everything that any professional may need when on the go. The portfolio comes with a 1.5 inch 3-ring binder in which notebook paper and other similar things can be punched. This leather book also entails a notepad, and spacious pockets which can be used to store money, visiting cards, cellphone, a notebook, and much more. It's the perfect on-the-go office travelbag.
---
This product was recommended by Tracy Anderson from Top Reveal
Gift a product that will help your clients stay connected with the latest technology, current affairs and help them to entertain. Amazon Fire HD 10-inch tablet is the one that will help them with all these things. It is a 1080p tablet with a new 2.0 GHz octa-core processor that can be used to enjoy movies, live TV, games, steaming songs, read books, and much more. They can pair their smart home devices with Alexa and manage them with this tablet.
---
This product was recommended by Tracy Anderson from Top Reveal
Normal office chair can change natural posture and don't give a top-notch comfort. A product that can give top-notch comfort and maintain the natural posture of your clients would be the best gift for them. Everlasting Comfort Seat Cushion is one of the best selling seat cushions for office chairs that can help your clients to maintain a healthy posture, reduce pressure and fight fatigue. This ergonomic seat cushion is designed to relieve back, hip, tailbone, and sciatica pain.
---
This product was recommended by Tim Robertson from inVPN
It's been a joy to use and is easy to operate. I love the different options for sizes and brew types. Sometimes, I have an erratic schedule so when I am home, I make a full carafe, pour myself a travel mug and leave the rest warming if ever I will come back home. Seriously, there is not one thing that I would change about this product and if you are considering buying this item, I would highly recommend it. You will not be disappointed.
---
This product was recommended by Darrian Wilkins from Kitchen Fold
I love this item since my coffee made it more flavorful. A new machine might be expected to be better, but I think they've gotten the flow and temperature of the brewing process better. I prefer the glass carafe because it keeps the coffee hot longer and I can always pour the coffee into a thermal carafe if I want to. Because of this, you get a great cup of coffee! You also now have control of the auto-off time, and you can shut off the coffee-ready beeper. They added a Bold button to slow down the brewing process if you want a stronger cup. They added a side-view sight tube so you can see the tank water level from the side. Overall feature is great.
---
This product was recommended by Atish Ranjan from Beast5
The world has begun learning how to work from home. The gift that contains items that can be used for work while traveling, on a coffee table, or even from home can be a thoughtful option in these times. The gift can include the essentials that help in working from home with ease. We found this unique offering a great option complete with a portable power bank with a charging cable, two USB charging ports, and one Micro-USB port. This is complemented with a notebook and a 6 in 1 tooling pen. The classic construction and the uniqueness of the gift further make it a rewarding option ever. What further makes it a great corporate gift can be the fact that it can be customized with voice messages or gift messages.
---
This product was recommended by Nicole Coleman from Sow Cole Creations
Unique and one of a kind. Abstract, funky, sweet, hand-painted leather and wood coasters.
---
This product was recommended by Sam Shepler from TestimonialHero
The Blue Yeti microphone is ideal for all kinds of audio applications – interviews, voiceovers, podcasts and even for improving the quality of your daily VoIP calls. Thanks to a set of advanced controls, you can adjust the recording mode depending on their surroundings. The mic is easy to use and produces a high-quality sound which makes it a perfect gift for anyone working remotely from a home office.
---
This product was recommended by Josefin Björklund from Topp Casino Bonus
Gifting single plants or groups of small succulent plants that come pre-packaged in a planter as client gifts can be something unique. Succulents are low maintenance and have the potential to live much longer than traditional flowers! These succulent plants will stay on your client's desk for an extended time, reminding them of your partnership and your thoughtfulness. There are also various great options available on Amazon like fun animal-themed succulents or those shaped like dinos.
---
This product was recommended by Phil Watson from Barbecue Grill Review
Coffee is the lifeblood that keeps everyone going. Your clients love coffee just as much as you and your employees do, which makes this ultimate coffee lover gift set the ideal client gift!
---
This product was recommended by Phil Watson from Barbecue Grill Review
Tumblers are always great corporate gifts! Everyone uses them for coffee, tea, soda, and protein shakes. These custom tumblers are made of double walled stainless steel and have a vacuum insulation so that everyone's beverages stay cold or hot for hours.
---
This product was recommended by Phil Watson from Barbecue Grill Review
Nowadays, face masks are an incredibly useful gift. Vistaprint, offers reusable face masks that give all of us the comfort, quality, and peace of mind.
---
This product was recommended by Phil Watson from Barbecue Grill Review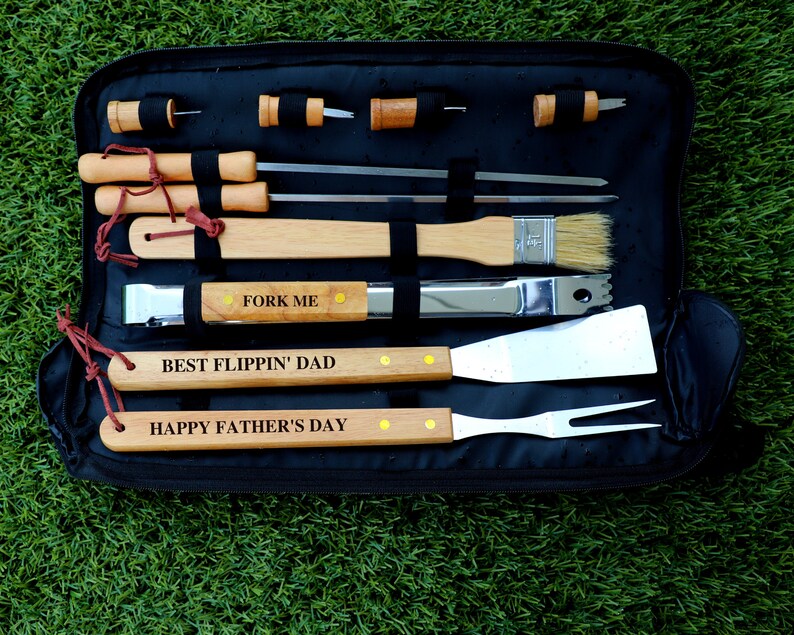 Personalized BBQ Set would be a nice gift for your clients, can print the business name on it and it will be remembered all the time.
---
This product was recommended by Phil Watson from Barbecue Grill Review
A very useful gift for your clients and a beautiful piece that complements personal style.
---
This product was recommended by Ahmed Mir from Sip Coffee House
This daily planner is not just a simple planner. What good about this planner is it has a spot for everything. Paper is really good quality and very bright. I remember giving this as a gift to a client and bought for myself too. It has a spot to make a to-do list and top 3 Must get done today, which is good to keep track of everything while keeping the focus on the most important things for the day. I like the clock to block times off for certain things. The appointment section was super helpful to list meetings and even a little details or events in your everyday life. This planner even has breakfast, lunch, dinner, and snack boxes to either meal plan or keep track of what you ate that day. The notes and doodles section was a pretty great idea, especially while on the phone.
---
This product was recommended by Yurii Brown from Coffee Geek Lab
Everyone sure loves coffee, especially Starbucks'. This is why bringing this coffee to your clients' kitchen every morning is the best thing you can do for them. After all, who doesn't love a warm cup of coffee from the famous Starbucks?
---
This product was recommended by Allan Borch from Dotcom Dollar
Wine sets are the best gift you can give to clients. They are evergreen, classy gifts that will help you build an impressive impression on your clients. These sets will help you make the statement that you value them and that you only give what is best to appreciate them. This translates to better rapport and relationship between you and them.
---