This post contains affiliate links. Affiliate disclosure: As an Amazon Associate, we may earn commissions from qualifying purchases from Amazon.com and other Amazon websites.
This article showcases our top picks for 'Best Luxury Gifts For Newborn'. We reached out to industry leaders and experts who have contributed to the suggestions within this article (they have been credited for their contributions below).
We are keen to hear your feedback on all of our content and our comment section is a moderated space to express your thoughts and feelings related (or not) to this article This list is in no particular order.
This product was recommended by Marisa Honig from MRPR
Hand block printed 100% cotton muslin swaddle wraps in Naaya by Moonlight's signature prints provide coziness and security for baby. Ideal for your new arrival, the sets of 2 come perfectly packaged for gift giving.
---
This product was recommended by Tonya Mickelson from Writer Mom For Hire
A plush elephant pillow is the ultimate luxury item for a newborn. Just think about all the adorable photo ops! Plus, as baby grows into a toddler, it will be a fun toy to play with and snuggle.
---
This product was recommended by Laimute Lipinskaite from Organic Comfort Market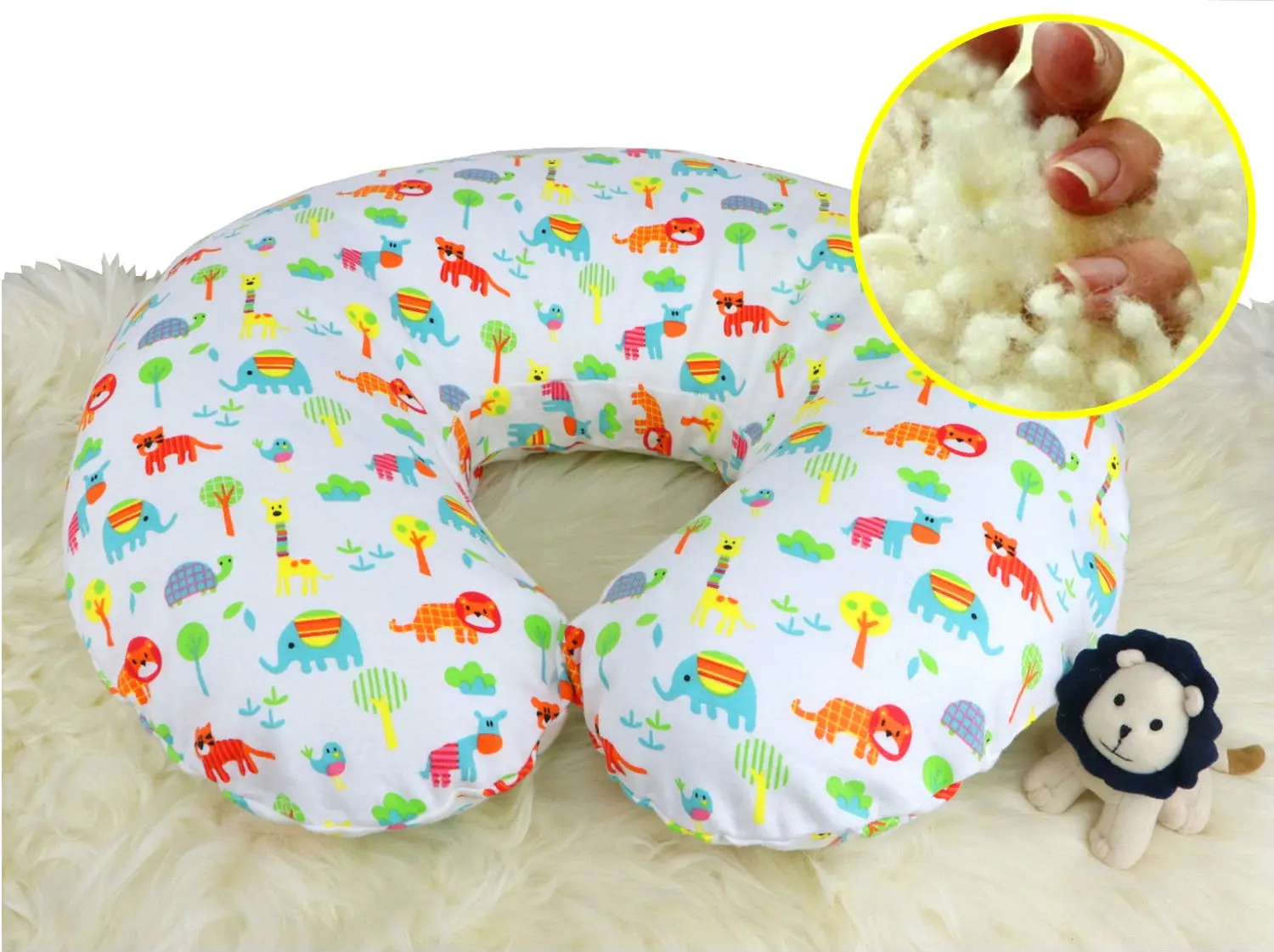 All natural, soft and comfy Camp With Lamb wool nursing pillow and positioner improves nursing experience and helps a baby grow. Dads can enjoy special bonding during bottle feeding time. The pillow includes a super soft cotton slipcover that is gentle on a baby's sensitive skin.
---
This product was recommended by Cecilia Yeung from Little Discoverer
The Uppababy is the most premium stroller that parents can buy. It's unique design allows for multiple configurations and can even transport a second or third child at the same time. The Vista also comes with a bassinet that you can attach to the stoller or use as a standalone bassinet.
---
This product was recommended by Natalie Beaulieu from 1o8 Agency
Yoee Baby is an interactive and developmental toy for newborn babies. Inspired by caressing a baby with a feather, Yoee Baby is a mom-designed baby toy that takes its cues from science to help parents play, connect and bond with their babies from day one. Plus, it's machine-washable and 100% guaranteed!
---
This product was recommended by Barbara Nevers from NeoLittle
This infant seat is a perfect gift for newborns and their moms as well. It has five different motions at different speeds to make the baby feel comfortable as if they are still being carried by their parents. It also has a built-in sound and gives you an option connect it to your own MP3. The best feature of this infant seat is you can control the motion, sound, speed, and volume through your smart device without disturbing the baby. It also includes interactive toys to keep your baby entertained.
---
This product was recommended by Barbara Nevers from NeoLittle
This machine automatically makes a warm formula bottle almost instantly. With this, there's no need for manual measuring and mixing. It saves you time and makes it easier when you have to get up in the middle of the night to feed your baby. It is BPA free so it's very safe for your baby. It's easy to clean and maintain. The best thing about this machine is as long as you've set it properly and it's filled, you can leave it plugged in all the time and it's always ready to make a bottle in less than 30 seconds.
---
This product was recommended by Kate Diaz from SwankyDen
Any little angel will look super adorable on this cute Nike Baby Boys Futura Terry 3-piece set that includes a bodysuit and matching jacket and pants. It's the perfect gift for any sport-loving parents you know. Plus, it is made from comfortable fabrics, which you can only expect from a top brand like Nike.
---
This product was recommended by Kate Diaz from SwankyDen
This Cradle 'n SwingSurreal Serenity from Fisher-Price comes with plenty of features to soothe your baby. These include six swing speeds, a variety of gentle songs and sounds, and adorable butterfly friends fluttering overhead. The seat of this cradle and swing is cozy with a very soft fabric to match.
---
This product was recommended by Dan Hunter from AuthorityTattoo
Did your loved ones just have a baby? Then this newborn daily essentials kit is the perfect gift for them. It covers all the basic products such as an 8-ounce bottle of soap-free and tearless 2 in 1 Hair & Body wash, an 8-ounce bottle of super soft lotion for delicate skin, a pack of cleansing cloths for the baby's face, body, and bottom, and a 5-ounce tube vitamin B and vitamin E ointments to help hydrate skin. The best part about this gift set is that it is gender-neutral.
---
This product was recommended by Robin Brown from Vivipins
Travelling with a newborn can be difficult, especially with all the hourly duties that come along with it. But, worry no more because this universal baby bag is your answer to all these problems! It's a 14 by 14 by 4 inches universal baby travel bag, which expands to 29 by 13 by 7.5 inches and is gender-neutral. The bag comes wrapped in cellophane, ready for gifting. There's space in it for everything. It can store all your baby essentials; from the diapers and muslins to the milk bottles, and also get converted into a portable crib for your baby to stretch out or sleep in. The best part is that the crib area can also be used as a changing station, solving all your problems whenever you travel with your baby.
---